Top 5 Science Fiction/Fantasy Books on my TBR List
Five science fiction books I want to read ASAP!!
1. Dhalgren by Samuel R. Delany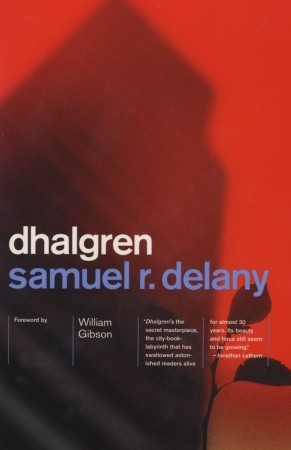 In Dhalgren, perhaps one of the most profound and bestselling science fiction novels of all time, Samuel R. Delany has produced a novel "to stand with the best American fiction of the 1970s" (Jonathan Lethem).
Bellona is a city at the dead center of the United States. Something has happened there…. The population has fled. Madmen and criminals wander the streets. Strange portents appear in the cloud-covered sky. And into this disaster zone comes a young man–poet, lover, and adventurer–known only as the Kid.
Tackling questions of race, gender, and sexuality, Dhalgren is a literary marvel and groundbreaking work of American magical realism.
2. The Good House by Tananarive Due
The home that belonged to Angela Toussaint's late grandmother is so beloved that townspeople in Sacajawea, Washington, call it the Good House. But that all changes one summer when an unexpected tragedy takes place behind its closed doors...and the Toussaint's family history -- and future -- is dramatically transformed. Angela has not returned to the Good House since her son, Corey, died there two years ago. But now, Angela is finally ready to return to her hometown and go beyond the grave to unearth the truth about Corey's death. Could it be related to a terrifying entity Angela's grandmother battled seven decades ago? And what about the other senseless calamities that Sacajawea has seen in recent years? Has Angela's grandmother, an African American woman reputed to have "powers," put a curse on the entire community?
A thrilling exploration of secrets, lies, and divine inspiration, "The Good House" will haunt readers long after its chilling conclusion.
3. Lion's Blood (Lion's Blood #1) by Steven Barnes
In the year 1863, a primitive village is raided, the men killed, and the women and children captured. The survivors find themselves chained in the dark, filthy hold of a ship crossing the ocean to the New World, where they are sold into slavery. The powerful master of a vast Southern plantation purchases the 11-year-old Irish lad Aidan O'Dere. Yes, you read that right--in this alternate America, the South was colonized by black Africans, and the North by Vikings, who sell abducted Celts and Franks to the Southerners. Through his brilliant inversion of our history, author Steven Barnes examines the complex evils of slavery in a new light with Lion's Blood, an intelligent and exciting novel of freedom and bondage, battle and intrigue, sex and love, set in an America threatened by total war as Aztecs, Zulus, Moors, and whites clash.
4. Parable of the Sower (Earthseed #1) by Octavia E. Butler
When unattended environmental and economic crises lead to social chaos, not even gated communities are safe. In a night of fire and death Lauren Olamina, a minister's young daughter, loses her family and home and ventures out into the unprotected American landscape. But what begins as a flight for survival soon leads to something much more: a startling vision of human destiny... and the birth of a new faith.
5. Order of the Seers (Order of the Seers #1) by Cerece Rennie Murphy
What would you do if you held infinite power in the palm of your hand? Order of the Seers poses this question within a story that fuses action, mystery, romance, and adventure in a science fiction novel that keeps you at the edge of your seat. Order of the Seers begins with the journey of Liam and Lilith Knight, a brother and sister who are hunted by The Guild, a ruthless world organization that seeks to capture and exploit Lilith s unique ability as a Seer to envision the future. Soon after they are forced to leave their home, Lilith and Liam discover that she is not alone. Other Seers like Lilith are routinely kidnapped and enslaved by the Guild for the purpose of consolidating wealth and power around the world. But from within the organization, Marcus Akida, a captured Seer with powerful visioning capabilities, quietly plots his daring escape with the help of a beautiful and tortured Seer named Alessandra. When the escaped Seers are drawn to the same remote commune in Iowa as Liam and Lilith, they each find a place where they can rebuild their lives and rediscover their passion for life and love. As the Guild s efforts to find them intensifies, the Seers ban together with outlaws from the commune to fight back against the organization that threatens their lives setting off a chain of events that will unleash the full power of the Seers and change everything we know about the true potential that lies dormant in each of us.
More Information on Black Science Fiction
http://www.africanamericansciencefiction.com/