#MiddleGrade #Fantasy #AudioBookReview -- The Supernatural Pet Sitter by Diane Moat -- Excerpt and #Giveaway Inside




The Supernatural Pet Sitter: The Magic Thief

The Magic Thief, Book One

Diane Moat

Narrator:

Barbara Goldie

Publisher:

Diane Moat

Publication Date:

August 3, 2017

Listening Length:

4 hours 3 minutes

ASIN:

B074G2QDKT

Genre:

Middle-Grade Fantasy

For more information: Amazon | Goodreads
Every animal can talk to you. You just have to know how to listen. Pepper Neely is better at this than most, especially because she is in charge of pet sitting all the familiars in her neighborhood. A familiar is a pet magically linked to a witch or warlock. As a gnome, Pepper is no stranger to spells and sorcery. She also knows that, despite their special name, familiars aren't all that different from regular animals. They get anxious when separated from their people, so Pepper uses her special gnome powers to calm them down. She watches Cranky the high-strung ferret, Frank the laid-back parrot, King Arthur the elderly tortoise, and many others. Then, something terrible begins happening to the familiars. Someone is stealing their magic! It not only prevents Pepper from communicating with them but breaks their magical connection with their people. When King Arthur's magic is stolen, his owner's powers stop working too. Pepper can sense that the tortoise is very scared. In order to protect the animal's magic, Pepper decides to track down the culprit. With the help of her best friend, Luna, and her brother, Jax, Pepper fights to protect all of the special pets.

Disclosure: I received this audiobook as part of my participation in a blog tour with Audiobookworm Promotions. The tour is being sponsored by Diane Moat. The gifting of this audiobook did not affect my opinion of it.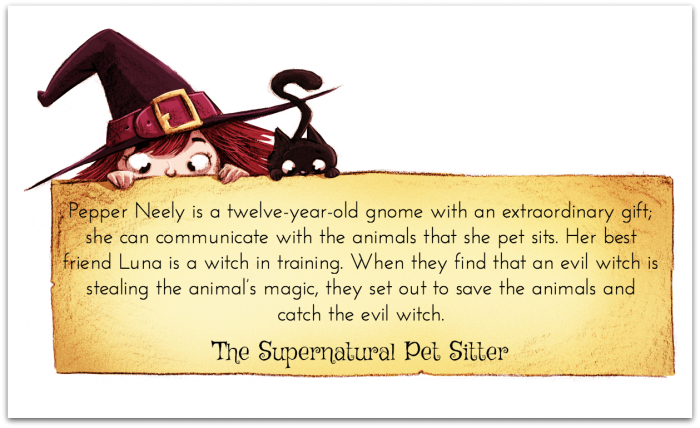 This fantasy was about a young girl, Pepper, who happened to be a gnome who had a job pet sitting animals, known as familiars. The story escalates when the pets of a warlock and witches lose their magic.Pepper wants to be able to restore the stolen Magic as well as help her friend practice her spells.


While the purpose of this story is to entertain children, within these pages lies a deeper meaning. There are two young girls, from different races - one is a witch and one is a gnome. Ironically, the parents allow the children to be friends even though they come from very different backgrounds. In today's political climate, this is a valuable lesson that all children need to learn.
In the end, the members of these two different races come together and thwart the corrupt intention of one witch who seeks to steal the magic of others to create her own.
The narration of the book was excellent.
The narrator's ability to change your voice when new characters are introduced is wonderful.
The characters were well-developed and the author uses flashbacks to provide a backstory for each character.
Character development:
9/10



Plot development:

9/10



Quality of production:

10/10



Well-paced:

9/10



Thought provoking:

9/10



Entertaining:

9/10



Enjoyable:

10/10



Overall – 65/70 == 92.8% = 4.6 stars

About the author
---
Diane Moat lives in Tennessee and works as a nurse and legal professional. When not at work, she fosters Chihuahuas. Her six rescues inspired her to write The Supernatural Pet Sitter children's series, which features a gnome who can communicate with animals.

About the narrator
---
Barbara Goldie grew up in Northern Kentucky, and then moved to Texas for several years, before deciding to pursue her dreams and follow her heart to the other side of this great planet we call Earth! Now living in Auckland, New Zealand, she is married to her soulmate and is loving her new life. Already a very devoted full-time voice actress, she has just recently started adding audiobooks to her resume of voiceover projects.