#Mystery #BookReview -- A Game of Deceit by K.A. Davis
Where onyx skulls and crossbones not only lead to murder and corruption, but unite the lost.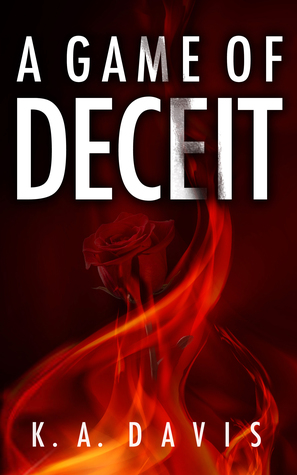 A Game of Deceit
K.A. Davis
Publisher: Cinnamon & Sugar Press;
Publication Date: August 1, 2017
Number of Pages: 295 pages
ASIN: B071KFS6CW
Genres: Mystery, Thriller & Suspense
A father's disappearance never solved, a mother's secret taken to the grave, a daughter deceived…

Kathryn Landry thinks her life is just about perfect. She is the owner of a successful interior designer business in Newport Beach, California, and she has an attentive, supportive husband. But her world comes crashing down when her husband, Neil Landry, vanishes without a trace… in a situation almost identical to the disappearance of her father twenty years before.

With her father's disappearance still a mystery, Kathryn is skeptical that the detective assigned to her case will be able to find her husband. Determined to uncover the truth, Kathryn is plunged into a world of politics, high-priced call girls and wealth. As she begins to search for her husband, a decades-old secret her mother took to the grave threatens to destroy all she holds dear. Caught up in a web of betrayals and deceit, and not knowing who to trust, Kathryn must find a way to survive as she discovers the past has a way of repeating itself.


Disclosure: I received a copy of this electronic book via NetGalley with no requirement to review.
In this fast-paced, psychologically absorbent novel, we meet and travel with Kathryn Landry as she tirelessly seeks to find her husband. When her husband disappears without reason, Kathryn Landry begins a quest that will forever change her life. Having experienced a similar mysterious disappearance involving her father, her emotions are high.
With winding plots of past rapes, murders, disappearances, collusion, and much more, the cover of this book belies the intense story it hides.
Three men - Neil, Mike, and John - each play an antagonistic role in Kathryn's developmental arc. She starts as a naive woman who believes most everything she hears and ignores all she sees. Soon, her eyes open, thanks to a stubborn detective and an assistant-turned-business partner. This woman endured much trauma during her short journey to find her husband. She evolved nicely through the story. She is a quite believable character, as evidenced by the real dialogue and her quirky humor.
As a connoisseur of crime novels, I enjoy a story where I cannot figure out the killer. Well, In
A Game of Deceit
, my list of suspects only contained three people. As the story went along, I was able to deduce the real suspect.
Character development: 10/10
Plot development: 10/10
Quality of writing: 9/10
Well-paced: 10/10
Thought provoking: 5/10
Entertaining: 8/10
Enjoyable: 9/10
Overall – 61/70 == 87.1% = 4.35/5.0 stars
Explanation of rating
Character development: 10/10 -- The development of the cast of characters was amazing. As I 'tapped" the pages, I learned more abou the psychological makeup of the protagonist and the antagonists, leading to my understanding of the title of this book.
Plot development: 10/10 --- no words can describe how I feel about the wondrously suspense-ridden plot. There were a few moments when I yelled expletives from mere shock.
Quality of writing: 9/10 - wonderfully vivid descriptions
"The glow from the hurricane lamps flickered in the deep dusk while the sounds of giant palm leaves rustled in the wind. Malibu lights glimmered around a stone path leading through lush flowering hibiscus and orchids. A faint smell of smoke floated in the air." (Kindle location 2051-2052)
Well-paced: 10/10 -- Appearing like a fade out scene, the chapters ended at the just the places and picked up with a bang
Thought provoking: 5/10 -- This is not a book that I can seem to pull any witty advice from.
Entertaining: 8/10 -- not quite slapstick, but Kathryn is one funny woman.
"That would be like kicking a guy already on the carpet."
"You mean 'don't kick a man when he's down'?"
"Yeah, that's what I meant."
(Kindle location 3268-3269)
Enjoyable: 9/10 -- Pleasant escape into a world riddled with lies and astounding family history trees.
Murder, betrayal, secrets, lies...required components in the ultimate game of deceit.