Book Review: The Marriage Pact by Michelle Richmond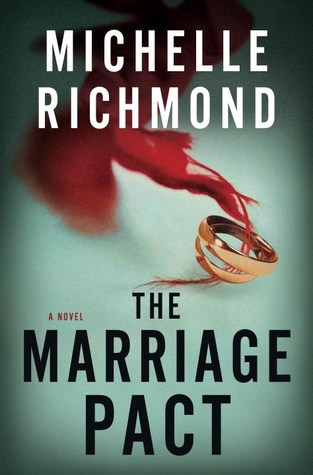 The Marriage Pact
Michelle Richmond
Published by: Bantam
Publication date: July 25th 2017
Genres:Mysteries,Thriller, Women's Fiction
In this relentlessly paced novel of psychological suspense, New York Times bestselling author Michelle Richmond crafts an intense and shocking tale that asks: How far would you go to protect your marriage?
Newlyweds Alice and Jake are a picture-perfect couple. Alice, once a singer in a well-known rock band, is now a successful lawyer. Jake is a partner in an up-and-coming psychology practice. Their life together holds endless possibilities. After receiving an enticing wedding gift from one of Alice's prominent clients, they decide to join an exclusive and mysterious group known only as The Pact. The goal of The Pact seems simple: to keep marriages happy and intact. And most of its rules make sense. Always answer the phone when your spouse calls. Exchange thoughtful gifts monthly. Plan a trip together once per quarter. . . . Never mention The Pact to anyone. Alice and Jake are initially seduced by the glamorous parties, the sense of community, their widening social circle of like-minded couples. And then one of them breaks the rules. The young lovers are about to discover that for adherents to The Pact, membership, like marriage, is for life. And The Pact will go to any lengths to enforce that rule. For Jake and Alice, the marriage of their dreams is about to become their worst nightmare.
The Marriage Pact is a uniquely fresh and chilling psychological thriller, featuring couples who subscribe to the philosophy of The Pact and would do anything to preserve their marriages.
A distinguished attorney and a therapist decide, after receiving an unusual wedding present, to participate in an unconventional group. This group has one central purpose: to ensure successful and healthy marriages. What begins as harmless structure and discipline leads to a harrowing experience.
With a masterfully tense plot, Redmond's ability to build a fictional world and breathe life into the characters shines brilliantly in The Marriage Pact. While the tone is dark and brooding, the pace is fast and smooth.
With a tint of satire, this psychological thriller will grab the attention of most married women. With voyeuristic relish, women will eagerly peek into the lives of Jake and Alice, albeit through Jake's eyes, and begin to ask the age-old question: Is there really a secret to a long and happy marriage?
Disclosure: I received an ARC from NetGalley in exchange for an honest review.
About the Author
I knew I wanted to be a writer for almost as long as I can remember, way back when I was a kid growing up in Alabama. I used to write skits to perform for my parents with my two sisters. After graduating from a huge public school in downtown Mobile, I studied journalism and creative writing at the University of Alabama, then worked in advertising and magazines, as well as in restaurants and a tanning salon (!) for a few years before enrolling in an MFA program in creative writing. I bounced around the South for a while and lived in New York City for a couple of years, with a brief work stint in Beijing, before settling in Northern California in 1999. I've been writing here in the fog ever since.